our website based on
the Meridian television series,
and its soundtrack, as recorded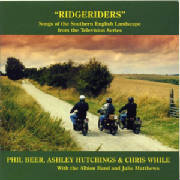 an inspirational journey
The North Downs Way runs
for 153 miles (245km)
through the Surrey Hills and
Kent Downs Areas of
Outstanding Natural Beauty.
It starts at Farnham on the
Surrey/Hampshire border
and ends at Dover -
Gateway to England.
with an alternative route
via Canterbury.
Much of the Trail follows the
Pilgrims Way, the legendary
route that was supposed to
be used by pilgrims on their
way from
Winchester to Canterbury
to pray at the shrine of
St Thomas Becket
(murdered in 1170).
Prior to this pilgrims would
have walked the other way
to pray for St Swithen,
who was buried
at Winchester Cathedral.
Britain's Best Bridleway
The 161 kilometre long
South Downs Way follows the
old routes and droveways of
ancient man along the
chalk escarpment and ridges
of the South Downs.
The route provides the
visitor with the opportunity
"to get away from it all"
without having to travel too
far in this busy part of England.
The undulating route
provides a wonderful trip for
long distance riders as well
as walkers. It also provides
interesting day trips and short breaks
two very beautiful photographs
showing the wide sweep
of the Sussex downlands.
plus the website has other
beautiful photographs taken
around Britain
their network of
and the junior branch,
work together with local
communities to protect
wildlife in all habitats
across the UK,
in towns, countryside,
wetlands and seas.