Footsteps On The Stairs And A Piece Of Paper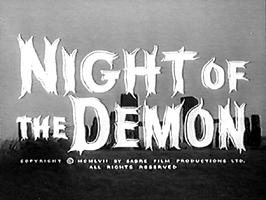 Rightly regarded as a genuine high point in both British horror and British cinema, Night (or Curse) Of The Demon is that rarest of rare things - an actually scary horror film.
American psychologist John Holden, a determined sceptic of the paranormal, arrives in London for a conference only to find his colleague Professor Henry Harrington is dead. Some of Harrington's friends believe that Harrington had a demonic curse placed on him because he was attempting to expose Satanist Julian Karswell, but Holden dismisses the notion. However as Holden encounters Karswell, he experiences a series of frightening phenomena which leave him uncertain as to whether they are real or just in his imagination. He then discovers that Karswell has passed him a piece of paper which contains a runic curse that will bring about his death in three days time unless he can pass the piece of paper onto someone else.
UK. 1957.
Director - Jacques Tourneur, Screenplay - Charles Bennett & Hal E. Chester, Based on the Short Story Casting the Runes by Montague R. James, Producer -Hal E. Chester, Photography (b&w) - Ted Scaife, Music - Clifton Parker, Music Conductor - Muir Mathieson, Special Effects Photography - S.D. Onions, Special Effects - George Blackwell & Wally Veevers, Production Design - Ken Adam. Production Company - Sabre/Columbia.
Cast:
Dana Andrews (Dr John Holden),
Peggy Cummins (Joanna Harrington),
Niall MacGinnis (Dr Julian Karswell),
Athene Sayler (Mrs Karswell),
Liam Redmond (Professor Mark OBrien),
Maurice Denham (Professor Henry Harrington)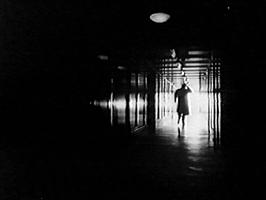 Two Ealing Ghost Stories
"Just Room For One Inside Sir..."
No true horror films were made in Britain during the War in compliance with government censorship, but borderline fantasies that included
The Halfway House found moderate success. Ealing Studios were already working on Dead of Night (1945) when peace was announced in 1945. The film is a serious study of the supernatural that captures all the nuances of the British ghost story with an omnibus of five tales linked by the nightmare of Walter Craig.
Architect Walter Craig, (Mervyn Johns), visits an isolated farmhouse that he has been asked to redesign, but when he arrives at Pilgrim Farm, he is surprised to find that the guests he is introduced to are all the subjects in his reoccurring dream. Although he only has faint memories of his nightmare, events seem to be unfolding in a very familiar way. Intrigued, the visitors relate their own tales of the supernatural.
Hugh, (Anthony Baird), tells of a vision he suffered after a near fatal race car accident while he was in hospital of a hearse driver, (Miles Malleson), complete with a horse drawn hearse who announces that there is "just room for one inside". Later when he is about to board on a bus, the conductor, (Miles Malleson), utters the same phrase. The man decides to miss the bus and watches in horror as it drives away, narrowly misses a lorry and plummets off the road.
Young Sally O'Hara, (Sally Ann Howes), at the cottage relates that while at a party when playing hide'n'seek, she wandered into a small forgotten room at the large house and found a little boy crying in the darkness. She spends some time with him, but when she returns downstairs to the party and explains where she was hiding, she is informed that the child she met was the ghost of Francis Kent who was murdered by his sister some years ago.
By now Walter Craig is becoming increasingly agitated as he confirms that the events are unfolding just as he predicted and announces that he will soon try to murder Dr. Van Straaten, (Frederick Valk), who has been sceptical of Craig's claims since he arrived.
Joan, (Googie Withers), explains how her husband, Peter, (Ralph Michael), became possessed by the spirit in an antique mirror that she bought for him as a birthday present. Slowly Peter becomes a jealous, homicidal maniac as he observes a much older, Victorian room in the mirror. Concerned Joan learns of the mirror's history from the antique dealer, (Esme Percy), where she purchased it, but when she returns to Peter's flat he tries to strangle her. In a moment of inspiration, she smashes the mirror and ends the spell.
In the weaker of the stories two golfing partners, George and Larry, (Basil Radford & Naunton Wayne), play a round of golf for the love of Mary, (Peggy Bryan). Larry loses and drowns himself, but returns to haunt his partner when he discovers that he had cheated.
Increasingly sceptical of Walter Craig's claim that they are all living out his dream, Doctor Van Straaten, a psychologist, relates a past case history that he was unable to solve. His patient was Maxwell Frere, (Michael Redgrave), a ventriloquist who was slowly becoming the nasty alter ego presented by his ventriloquist's dummy, Hugo. When Maxwell mistakenly believes that fellow ventriloquist Sylvester Kee, (Hartley Power), is trying to steal his dummy, he shoots him and is arrested. In prison Hugo completely takes over his personality.
Walter Craig enters a nightmarish world of images from each of the stories and then suddenly awakes when he receives a phone call to visit a farmhouse.
Already unnerved after the experiences of World War II, audiences and critics alike made the film a success, except in America where it was released without the "The Golfing Story" and "The Christmas Story". The absence of the former, the weakest of the quintet, no doubt created a better paced film, but without the latter it lacked the necessary humour and charm that aided the growing sense of menace within the film as a whole. Not only did American audiences see this at 77 minutes, but many cinema projectionists further weakened the film's impact by turning up the house lights and drawing the curtains just as soon as the credits appeared. Of course the last scene is played out as the credits roll when the full circle of the narrative is completed.
Unlike most modern horror compendium tales, the framing story involving Walter Craig is embedded into the narrative and is not just a device to link the tales.
Also deserving of praise is George Auric's score that is as equally restrained as the narrative and never intrudes where it isn't needed. Indeed, the moments of silence are scored with as much forethought and intensity as the music itself.
The two strongest episodes are "The Haunted Mirror" and "Ventriloquist's Dummy", both of which take the implied horror elements one more notch up the scale before reaching the horrendous climax. The former is a cleverly executed ghost story that creates just the air of mystery needed. The audience never experiences anything beyond the strange room in the mirror, but the other worldly presence is felt through the eyes and mannerisms of Ralph Michael's superb performance. When we are finally told of the mirror's past by the antique dealer, it comes as no surprise, but his chilling account is nevertheless a memorable moment.
Michael Redgrave's virtuoso performance as the neurotic ventriloquist is also extremely memorable, but this is a story of madness as ventriloquist Maxwell Frere slowly, but surely becomes completely insane when he adopts the personality of his dummy Hugo with whom he is completely at odds with. (John Maguire portrays the ventriloquist's dummy when it comes to life. He was 25 and only 4 foot high). Although this episode is frequently praised, and has been copied several times since including MAGIC (1979) starring Anthony Hopkins, this elaborate episode fails to invoke quite the same foreboding as "The Haunted Mirror". The reason lies in the fact that Redgrave's character is already highly strung and neurotic from the start, so his complete insanity is not entirely unexpected.
Overall Dead of Night works well due to the juxtpositioning of humour and terror, elements of which can be found in each of the stories, even though different directors were responsible for their own episode. This suggests a strong guiding hand by producer Michael Balcon who helped bring this experimental idea into full focus.
A Film That Is Both Charming And Chilly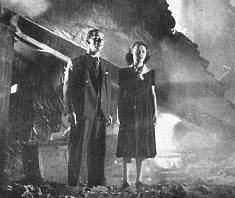 The Halfway House
opens in Cardiff, the capital city of Wales where David Davies, (Esmond Knight), a renowned musician, is being scolded by his doctor, (John Boxer), for working too hard and his subsequent ill-health that will soon lead to death if he is not careful. The doctor convinces David to take a break.
Young Joanna French, (Sally Ann Howes), waits at a solicitor's office where her parents are attempting to reconcile custody matters in light of their impending divorce. Mr. French, (Richard Bird), agrees to take their daughter with him for a short holiday while his wife, Jill, (Valerie White), plans to get away for a while. Joanna conspires for both her parents to end up at the same place.
William Oakly,a black marketeer, (Alfred Drayton), organises a fishing trip for himself after making a deal to distribute a shipment of illegal tea and stockings.
Captain Fortescue, (Guy Middleton), is released from prison after being convicted for stealing a shipment of regimental money.
Captain Meadows, (Tom Walls), and his wife Alice, (Francoise Rosay), are grieving over the loss of their son. He decides to become a farmer despite his love for the sea and she turns to spiritualism to the exclusion of her husband in the hope of contacting her son in the afterlife. Irishman Terence, (Pat McGrath), proud of his nation's neutrality travels with his girlfriend Margaret, (Philippa Hiatt), on a train bound for Carmarthen where they indulge in their fellow passengers' Welsh Cakes and a rousing chorus of Sosban Fach.
All the characters find themselves in the tranquil setting of the Halfway House at Cwm Bach in Carmarthenshire, but what they don't know is that a year previously the inn was bombed by a German plane and the landlord Rhys, (Mervyn Johns), and his daughter Gwyneth, (Glynis Johns), were killed in the blast.
The inn appears as it was to the guests, but slowly they realise the truth of their surroundings when they notice that all the newspapers are a year old, the radio plays year old news and the landlord and his daughter cast no shadow. The time slip and the guiding words of the ghostly owners affords each in turn a chance to redeem themselves and mend their ways as they await the ghostly bombing of the inn to reoccur. They leave the ruins of the inn with a better understanding of their lives and their faith.
This extremely enjoyable film does tend to end rather too neatly, but the cast and crew excel themselves by maintaining an other worldly atmosphere. Basil Dearden, (1911-1971), began his career as an editor before becoming a co-director on the later Will Hay comedies for Ealing. He later co-directed on Dead of Night (1945), Ealing's second and highly successful supernatural release.
Welsh actor Mervyn Johns appears for the first time with his real life daughter Glynis. Born in Pembroke on February 18th., 1899, Mervyn attended Llandovery College before abandoning his dentistry studies in 1923 for the lure of the stage and married Alys Steele, an Australian pianist that same year. Glynis was born in Durban, South Africa on October 5th. 1923 and took to the London stage in 1935. In 1948 Glynis found fame in MIRANDA, as a mermaid who enchants Griffith Jones and by 1954 she was voted one of the top money making British stars by the Motion Picture Herald-Fame Poll.
Also in the cast is Francoise Rosay in her first British film after fleeing France when the Nazis invaded. This fiercely patriotic, but internationally renowned star married French director Jacques Keyder and followed him to Hollywood where she made twelve films. In Britain she enchanted audiences with her one woman show at the Haymarket as well as her several screen appearances.
The Halfway House is both charming and chilly, perfectly capturing the many facets of society during wartime while weaving a satisfying supernatural yarn that was strongly supported by The Church of England for its spiritual message.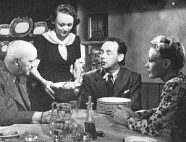 the Richard Scheib take
the British Horror Films Website
take.
The Metamovie Take
the film was adapted